Basketball Court Paint | Backyard Court | Court Surfaces
Basketball and multi-purpose courts are found everywhere from parks and schools to clubs and homes. SportMaster systems are ideal for any indoor or outdoor court surface in any part of the world. Netball, Volleyball, and a variety of activities can be played on an acrylic game court surface.
Why use a SportMaster Surfacing System on your outdoor basketball court or recreational area?
Court Protection & Maintenance: SportMaster repair and coating products protect and extend the useful life of the asphalt or concrete surface from the sun, weather and environmental contaminants.
Aesthetics: 16 standard, vibrant colors ensure many years of fade-resistant beauty for your investment.
Safety & Texture: SportMaster acrylic surfaces are shipped with or without sand. A non-skid surface can be achieved to prevent slippery conditions on a dry or wet sport surface.
Support: SportMaster Sport Surfaces are stocked and supported throughout the United States and around the world at more than 100 SealMaster locations.
All SportMaster systems can be applied on properly constructed asphalt, concrete, or existing acrylic surfaces. SportMaster has many surfacing options from high-end, professional facilities to a backyard court. If you are interested in getting cost estimates for basketball court construction or resurfacing, contact us for referrals to qualified sport surfacing contractors in your area.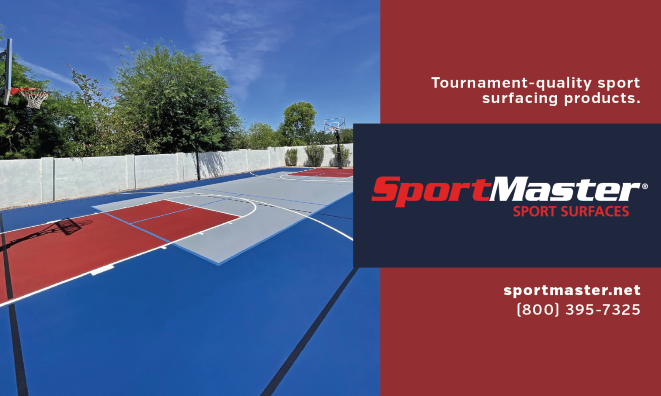 These illustrations show examples of recommended installation steps:
ColorPlus & Standard Court System
Cushioned Court System