Tennis Products
Acrylic Resurfacer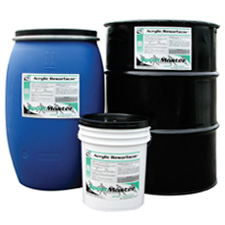 Acrylic Resurfacer is a 100% acrylic latex emulsion designed for onsite mixing with silica sand and water.
Sizes Available
5 Gallon Pail, 30 Gallon Keg, 55 gallon Drum
Coverage
Yield calculations are based on undiluted gallons of SportMaster Tennis Court Acrylic Resurfacer and will vary according to surface texture and porosity within the limits below:
.07 to .09 gallons per square yard per coat.
Colors Available
* Colors may very slightly from actual product.

100% acrylic emulsion coating with sand formulated for tennis surfaces and other sport and recreational hard courts.
Description
SportMaster Acrylic Resurfacer is 100% acrylic emulsion resurfacer designed for on site mixing with silica sand. Acrylic Resurfacer reduces surface porosity allowing for application of an even, full depth color, playing surface.
Uses
Tennis Courts
Multi Purpose/Basketball
Surface Preparation
Pavement surface must be cleaned entirely of dust, dirt, debris and all loose materials. New asphalt must cure 30 days before application. Repair of pavement surface defects, depressions and cracks must be completed prior to application. All repairs must be flush and smooth to adjoining surfaces.
Mixing Procedures
For Use As A Coating – Use the following mix design (based on 55 gallons of Acrylic Resurfacer for ease of calculation):
Acrylic Resurfacer – 55 Gallons
Silica Sand (50 – 60 mesh) – 800 lbs.
Water – 33 Gallons
For Use As A Patching Material – Acrylic Resurfacer may be modified with the following mix design.Patching Mix for applications up to 1/4" lifts:
Acrylic Resurfacer – 10 Gallons
Water – 5 Gallons
Sand – 200 lbs.
Cement – 1/2 Gallon
(Always mix cement thoroughly with a small amount of water before adding to patching mix)
Note: Silica Sand used in patching should be AFS fineness 30 to 40 mesh.
Application
Apply Acrylic Resurfacer with a soft rubber squeegee. Apply successive coats in cross directions. Scrape all rough spots and ridges before applying the next coat. Apply one or two coats, depending on surface porosity and condition. Two coats are recommended on new or uncoated asphalt.
Important
Stir material thoroughly before using. Temperature must be a minimum of 50 °F. and rising before application. Do not apply when rain is imminent or forecast. Keep from freezing. Close container when not in use.
Drying Time
30 to 60 minutes under optimum drying conditions.
Clean Up
Wash tools in water before material dries.
Catalog
Unit Size
Unit Weight
View in Catalog
5 gal. Keg
48 lbs.
30 gal. Drum
280 lbs.
55 gal. Drum
525 lbs.