In-Line Skate Products
Neutral SkateMaster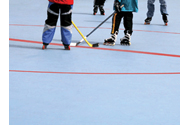 A durable, 100% acrylic surfacing system for use on asphalt or concrete sport surfaces. Designed for roller sports and high-use areas. Mix with ColorPlus Pigment Dispersion for desired color.
Sizes Available
30 Gallon Keg, 55 gallon Drum
Coverage
Yield calculations are based on undiluted gallons of Acrylic Resurfacer. SkateMaster is ready to use with no dilution.
Colors Available
Forest Green
Light Green
Dark Green
Beige
Brown
Red
Maroon
Tournament Purple
Gray
Blue
Light Blue
Dove Gray
Ice Blue
Sandstone
Orange
Yellow
Black
Brite Red
* Colors may very slightly from actual product.

100% acrylic emulsion coating designed for color coating in-line skating pavement surfaces.
LEED
SS Credit 7.1: Heat Island Effect: Non-Roof *Specific colors may contribute toward LEED credits.
Description
The SkateMaster Coating System is a 100% acrylic emulsion system consisting of one or two coats of Neutral Acrylic Resurfacer (tinted) and two coats of SkateMaster coating.
Uses
The SkateMaster system can be applied to any asphalt or concrete pavement where In-Line Hockey or roller sports is desired. SkateMaster can also be used as a durable surface for multi-purpose sport areas.
Surface Preparation
Pavement surface must be cleaned entirely of dust, dirt, and debris. Repair of pavement surface defects, depressions and cracks must be completed prior to application. All repairs must be flush and smooth to adjoining surfaces.
New asphalt surfaces must cure 14 to 30 days prior to application.
New concrete surfaces must cure 28 days prior to application. Concrete surfaces should have a medium broom finish or similar roughened texture. Etch surface with acid and thoroughly clean with brooms and water or power washer. Allow concrete slab to thoroughly dry and apply SportMaster Acrylic Adhesion Promoter at a rate of 200-300 square feet per gallon. Allow concrete sealer to thoroughly dry before applying successive coatings.
Mixing Procedures
Mix materials to a smooth, uniform consistency.
Neutral Acrylic Resurfacer – 55 gals.
ColorPlus Pigment Dispersion – 3 gals.
Silica Sand (70 mesh or finer) – 800 lbs.
Water – 33 gals.
SkateMaster is ready to use. Do not dilute.
Neutral SkateMaster – 55 gals
ColorPlus Pigment – 4 gals.
Neutral SkateMaster – 30 gals.
ColorPlus Pigment – 2 gals.
Up to 7 lbs. per gallon of sand (80-100 mesh) can be added to SkateMaster, if texture is desired on a multipurpose court.
Application
Apply 1 or 2 coats of Acrylic Resurfacer (depending on pavement porosity) followed by 2 coats of SkateMaster. Allow materials to dry completely between coats.
Important
Temperatures must be above 50ºF both during application and for a period of at least 24 hours after application.
Drying Time
Allow each coat of material to dry thoroughly before applying successive coats. Allow coating to dry for 48 hours prior to skating.
Clean Up
Wash tools in water before material dries.