Tennis Court Paint | Tennis Court Coating | Do It Yourself
Neutral Ready-Mix Color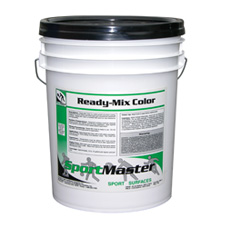 Ideal for maintenance crews and do-it-yourselfers. The proper sand and water is already added. Simply add 1 ColorPlus Tint (24oz), stir, pour, and apply by soft rubber squeegee.  The new, neutral-base, formula provides the same easy to mix packaging with a much bigger choice of colors.  By pouring in our pre-measured ColorPlus Tint, there are 18 standard color choices available.  Check out our ColorPlus Fusion page for many more color options (i.e. brown = 1 ColorPlus Tint of each color: Forest Green & Maroon)
Sizes Available
5 Gallon Pail (Contains 4.5 gallons of Neutral Ready-Mix to allow space for mixing in ColorPlus Tint)
Coverage
Approximately .09 to .11 gallons per square yard per coat (95 sf/gallon or 430 Square Feet per pail)
Colors Available
Forest Green
Light Green
Dark Green
Beige
Brown
Red
Maroon
Gray
Blue
* Colors may very slightly from actual product.

100% acrylic tennis court coating designed for tennis, basketball, and other athletic & recreational courts.
Description
Neutral Ready-Mix is a 100% acrylic emulsion coating designed for tennis courts and other sport and recreational pavement surfaces. Ready-Mix Color is fortified with sand for slip resistance and durability.
Uses
Tennis courts, basketball courts, athletic courts, playgrounds, and other asphalt or concrete recreational surfaces. Do It Yourself (DIY) friendly packaging.
Surface Preparation
Pavement surface must be cleaned entirely of dust, dirt, debris and all loose materials. Repair of pavement surface defects, depressions, and cracks must be completed prior to application. All repairs must be flush and smooth to adjoining surfaces. Do not use asphalt-based, crack fillers with this or any acrylic tennis court coating. For best results, use with acrylic-based crack repair products.
New asphalt surfaces must cure 14 to 28 days prior to application. It is recommended that any uncoated asphalt surface receive one or more coats of Acrylic Resurfacer (Technical Bulletin CMT- 3) as required by surface roughness and porosity to provide a smooth, dense underlayment for application of tennis court coatings and paint.
New concrete surfaces must cure 28 days prior to application. Concrete surfaces should have a medium broom finish or similar roughened texture. They must never be steel troweled. Etch surface with Muriatic or Phosphoric Acid and apply SportMaster Acrylic SportMaster Adhesion Promoter and Acrylic Resurfacer prior to coating with neutral ready-mix tennis court paint.
Mixing Procedures
Neutral Ready-Mix Color is ready to mix with ColorPlus Tint. Do not add water. Stir thoroughly prior to application. A power drill and paddle mixer is recommended for complete mixing of pigment and coating solids.
Application
Apply pigmented Neutral Ready-Mix Color with a soft rubber squeegee (50-60 durometer). Allow complete drying time between coats. Two coats are the recommended minimum. Additional coats may be applied for extra durability.
Important
Mix material thoroughly before using. Surface & air temperature must be a minimum of 50° F. and rising before application, and for at least 24 hours after. Do not apply when raining is imminent or forecast. Keep from freezing. Close container when not in use. Do not use over previously sealcoated asphalt surfaces.
Drying Time
Ready-Mix Color dries in 30 to 60 minutes under optimum drying conditions. Allow 48 hours before allowing foot traffic or play.
Clean Up
Wash tools in water before material dries. If allowed to dry, tennis court coating can be removed from tools with water and wire brush.
Contact Us
Contact your SportMaster representative if you have further questions on Neutral Ready Mix, tennis court paint, tennis court coatings, or do it yourself (DIY) products. Qualified tennis court & sport contractors are available nationwide. Ask us for contractor referrals and to receive free estimates on your court construction, repair, or resurfacing project.