Pickleball Court Paint DIY | Do It Yourself Coatings
PickleMaster RTU (Ready To Use) – Official Court Surface of USA Pickleball
USA Pickleball is the governing body of Pickleball in the United States.


SportMaster produces Pickleball court paint that is engineered for indoor and outdoor pickleball court surfaces.  There are 8 standard colors to choose from and the coatings are factory-mixed with fine silica sand for safe, textured playing surfaces.  These paint coatings are best installed by professional sport contractors, but can be applied by Do it yourself crews, as well.
Package Sizes Available
5 Gallon Pail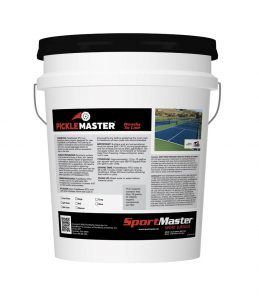 Pickleball Paint Coverage
Yield calculations are based on undiluted gallons of PickleMaster RTU and vary according to surface texture and porosity within the limits below:
Each coat requires .09 to .11 gallons per square yard (100 Square feet, per gallon) – Depending on pavement and surface porosity.
Colors Available
Forest Green
Light Green
Dark Green
Beige
Brown (Field Mixed – 50/50 Maroon & Light Green)
Red
Maroon
Gray
Blue
* Colors may very slightly from actual product.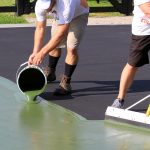 100% acrylic pickleball paint coating designed for application on asphalt or concrete pickleball court surfaces.
Description
PickleMaster RTU is a specialized coating system designed for use on pickleball court surfaces. The coating is factory-mixed with a fine rounded aggregate blend to provide non-slip texture without excessive wear on the balls.
Uses
Pickleball Court Painting / Surfacing
Can also be used in combination with other court and recreational surfacing
Pickleball courts on playground and recreational areas (asphalt or concrete)
Pickleball Court Surface Preparation
Pickleball court surface must be cleaned entirely of dirt, debris and all loose materials. Repair of pavement surface defects, puddles and cracks must be completed prior to application. Acrylic Crack Patch, Acrylic Patch Binder, or any of our 100% acrylic crack fillers can be used to repair cracks in the pickleball court before coating.  All repairs must be flush and smooth to adjoining surfaces.
New asphalt surfaces must cure 14 to 28 days prior to application. It is recommended that any uncoated asphalt surface receive one or more coats of Acrylic Resurfacer to fill surface voids and maximize the coverage of the pickleball court paint.  Existing pickleball court surfaces should also receive one coat of Acrylic Resurfacer to hide surface repairs and provide the ideal texture to receive the PickleMaster RTU pickleball court paint coatings.
New concrete surfaces must cure 28 days prior to application. Concrete surfaces should have a medium broom finish or similar roughened texture. They must never be steel troweled. Acid etch surface with Muriatic or Phosphoric Acid and apply SportMaster Acrylic SportMaster Adhesion Promoter prior to Acrylic Resurfacer and PickleMaster RTU pickleball court paint.  Make sure to follow the SportMaster engineering specification for "color coating concrete" when planning to build or paint a pickleball court surface.  Click here for an in-depth guide on proper preparation of concrete for sport surfacing.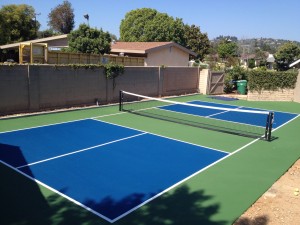 Pickleball Court Paint | Mixing Procedures
PickleMaster RTU is a ready-to-use formula.  There may be some settling, so it is recommended to mix the materials thoroughly before application.  A drill and paddle/paint mixer we be required, since the materials contain specialty aggregates for surface texture.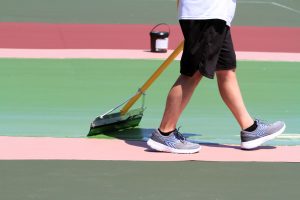 Note: Mix coating material to a smooth, uniform consistency.  Keep well mixed prior to and during application to prevent the sand from falling out in the mix.
Pickleball Court Paint Kit
Here are some calculated amounts when looking to purchase a pickleball court paint kit of materials: NOTE* – You can right click on the pictures below and select save as, to save the picture.  Or, choose copy image and then paste into an email.
Resurfacing an existing pickleball court: Based on 44′ x 20′ Standard Pickleball Court (Playing Lines Area – Including Kitchen/Non-Volley Area)
(2 to 3) 5-Gallon Pails – C1330P Acrylic Resurfacer with sand (One Coat)
(5) 5-Gallon Pails – PickleMaster RTU (Two Coats for one-color pickleball court)
If you want a two-color pickleball court, you need (2) 5-gallon pails for the non-volley zone (kitchen), and (4) 5-gallon pails for both service areas.
(1) Gallon of C1610G Stripe Rite (Anti-bleed) line primer
(1) Gallon of C1620G Textured White Line Paint
(1) T1277 24″ Sport Squeegee Complete (Application Squeegee)
Optional*  30-gallon plastic keg with lid, for mixing materials with water.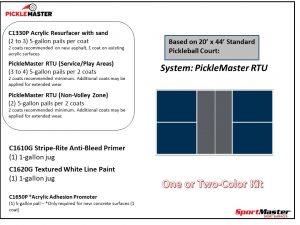 Surfacing a new pickleball court: Based on 44′ x 20′ Standard Pickleball Court
If surfacing a new pickleball court, you may need to add the following products:
Concrete Surface: Add (1) 5-Gallon pail of C1650P Acrylic Adhesion Promoter as a concrete primer
Asphalt Surface: Double the amount of C1330P Acrylic Resurfacer with sand, from the resurfacing kit above, in order to fill the extra porosity of asphalt.  Depending on the asphalt porosity, you may need additional pails for coverage.
Premium Option: Cushioned Pickleball Court
You can also add rubberized acrylic layers to your pickleball court surface to create a cushioned pickleball court.  The standard SportMaster ProCushion system consists of 3 coats of CushionMaster II (coarse rubber granules) and 2 coats of CushionMaster I (fine rubber granules).  These coats are applied on top of the Acrylic Resurfacer layer and beneath the pickleball court paint layers.  Here is the amount of product needed to apply 5 full coats on your full-sized pickleball court:
(9) 5-Gallon pails of CushionMaster II
(5) 5-Gallon pails of CushionMaster I
For more cushioning, you can apply additional coats of CushionMaster II.  It will take approximately 3 pails of CushionMaster II, per coat.
The recommended minimum pickleball court is 30′ x 60′.  This includes  a safe area outside of the playing area and is the industry standard.  Here are some material kits depending on how many different colored areas you prefer. Note, when applying materials on a two or three color pickleball court, it is best to apply the outside color on the entire court (first & in two coats).  Then, the playing and kitchen colors are applied on top.  This minimizes change of direction with the application squeegee resulting in a much better look, and quicker application.  The kit quantities reflect this method: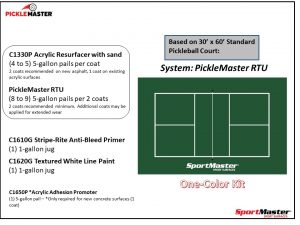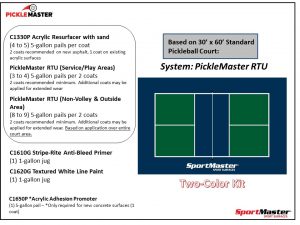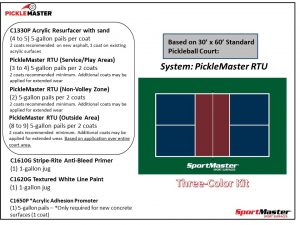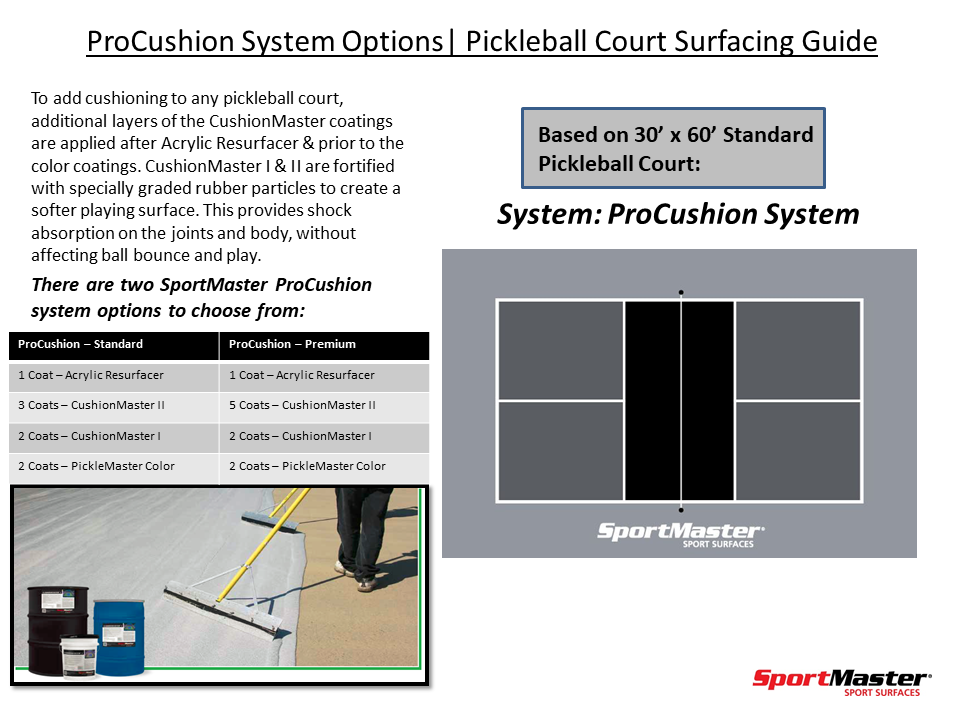 To get a quote on a pickleball court paint kit, please call (800) 395-7325 for your nearest SportMaster location or Click Here to Send us an E-mail with your request.
Application
Apply PickleMaster RTU using a soft rubber sport squeegee for best results. A paint roller can also be used, but it difficult in the heat & may not provide a uniform texture when compared to squeegee application.
Important
Air and surface temperatures must be above 50ºF (10ºC) both during application and for a period of at least 24 hours after application.
Drying Time
Allow each coat of material to dry thoroughly before applying successive coats.  Pickleball court paint typically dries within 45 minutes to an hour in the full sun, depending on temperature and humidity.
Clean Up
Wash tools in water before material dries.