Pickleball Court Surfaces & Construction
SportMaster contractors install Pickleball court surfaces and perform construction using the same methods as utilized on tennis courts. When building a Pickleball court, is equally important to secure an experienced contractor with knowledge of tennis court and sports construction. This will ensure that you get proper construction, slope, and drainage for your Pickleball court.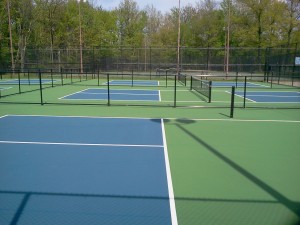 Once the asphalt or concrete slab is in place and properly cured, it is time to choose an acrylic SportMaster Pickleball court surfacing system. The SportMaster ColorPlus system offers the largest array of Pickleball surface colors, with 16 standard colors in which to choose. The Color Concentrate and Ready-Mix Color will also provide the same surface results for Pickleball, with 9 standard colors. The standard surfacing mix on each of our color systems is ideal for Pickleball, or the surface texture can be customized to meet your specific needs. Ask a SportMaster representative or installer for more information, if your are interested in customizing surface textures on your Pickleball court.
These illustrations show examples of recommended installation steps:
Pickleball Court Surfaces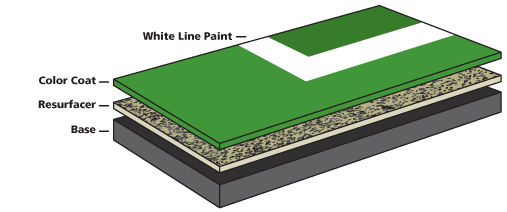 Cushioned Pickleball Court Surfaces