PickleMaster | Official Court Surface of USA Pickleball Association
                 Pickleball Court Surfacing system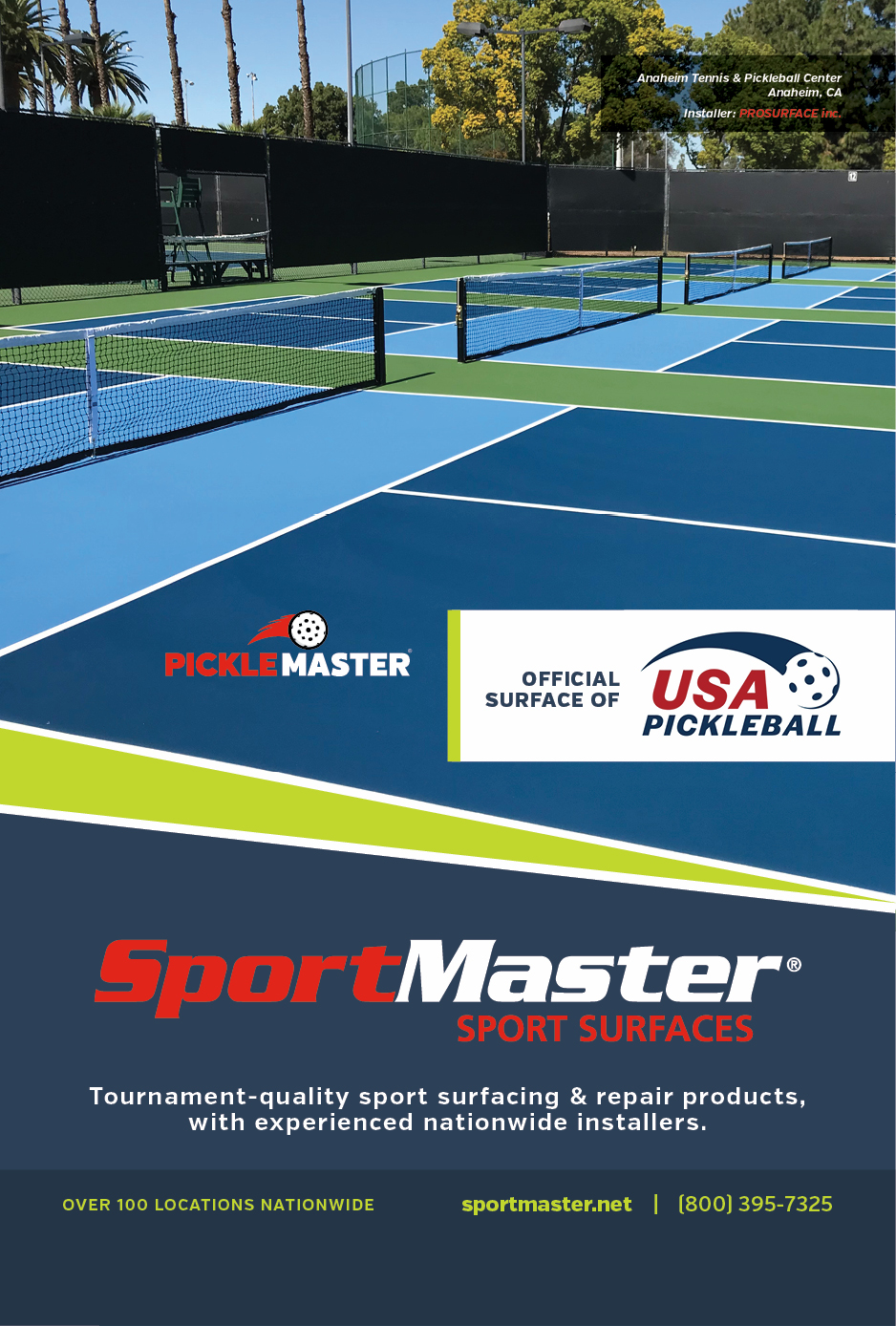 PickleMaster is a professional-grade, pickleball court surfacing system. PickleMaster is produced with a specialized aggregate blend to provide a safe, non-slip playing surface and non-aggressive texture for minimal pickleball wear.  This concentrated & unpigmented base coating is designed to be mixed with SportMaster ColorPlus pigment dispersion to achieve desired color.  Looking for more color choices?  Check out our ColorPlus Fusion page to see our huge palette of potential combinations.
Sizes Available
30 Gallon Keg & 55 Gallon Drum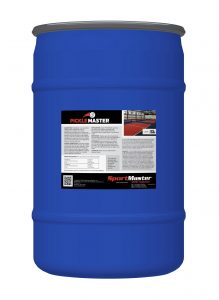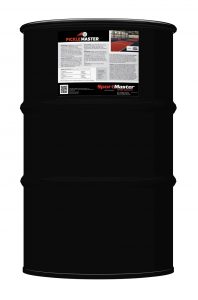 Coverage
Yield calculations are based on undiluted gallons of PickleMaster and will vary according to surface texture and porosity within the ranges below:
As a pickleball surface – .07 to .09 gallon per square yard per coat (100-125 square feet per gallon, per coat).  Two coats are recommended, but additional coats may be applied for higher-traffic courts.
Colors Available
Forest Green
Light Green
Dark Green
Beige
Brown (field mixed)
Red
Maroon
Tournament Purple
Gray
Blue
Light Blue
Dove Gray
Ice Blue
Sandstone
Orange
Yellow
Black
Brite Red
* Colors may very slightly from actual product.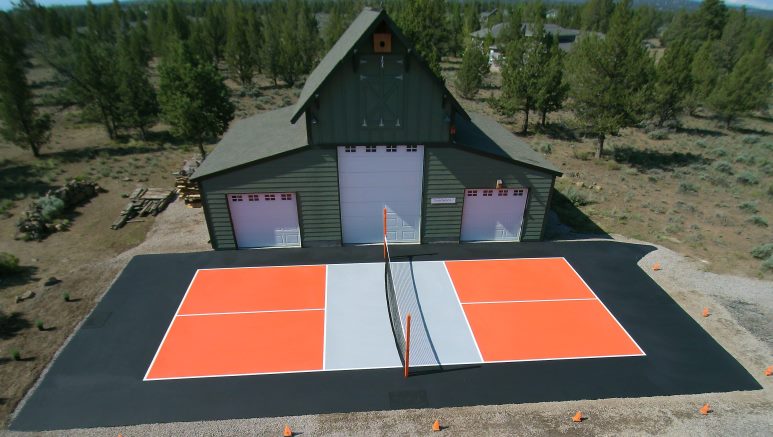 Professional specialized surfacing system for pickleball court surfaces
Description
PickleMaster was specifically engineered for the sport of pickleball. The factory-textured, neutral-based formula can be tinted with SportMaster ColorPlus pigment dispersion to achieve the intended color.  Hundreds of color options are available with the ColorPlus & ColorPlus Fusion systems.
Uses
Pickleball courts on asphalt, concrete, or existing acrylic surfaces. Combination courts including pickleball & other recreational games.
Surface Preparation
Pavement surface must be cleaned entirely of dust, dirt, and debris. Repair of pavement surface defects, depressions and cracks must be completed prior to application. All repairs must be flush and smooth to adjoining surfaces.
New asphalt surfaces must cure 14 to 30 days prior to application. It is recommended that any uncoated asphalt surface receive one or more coats of Acrylic Resurfacer (Technical Bulletin CMT – 3) as required by surface roughness and porosity to provide a smooth, dense underlayment for application of tennis surfaces.
New concrete surfaces must cure 28 days prior to application. Concrete surfaces should have a medium broom finish or similar roughened texture. Etch surface with muriatic or phosphoric acid and apply SportMaster Acrylic Adhesion Promoter (Technical Bulletin CMT – 21).  Ensure that concrete surfaces meet all ASBA (American Sports Builders Association) construction guidelines for best results.  To prevent blistering and potential bond and peeling problems, make sure your concrete pickleball court slab has the following:
-Medium broom finish or shot blast profile CSP 3 or 4
-Vapor barrier installed beneath the court
-Good perimeter drainage to prevent accumulation of water beneath the slab
-1% slope in one direction (1″ in every 10 feet) for optimal surface drainage
PickleMaster Mixing Procedures
Mix in the following order for 55 gallon drum of PickleMaster:
PickleMaster – 55 gallons
SportMaster ColorPlus – 4 gallons
Water – 20-23 gallons
Mix in the following order for 30 gallon keg of PickleMaster:
PickleMaster – 30 gallons
SportMaster ColorPlus – 2 gallons
Water – 12-13 gallons
Note: Mix thoroughly to ensure complete dispersion of ColorPlus & consistent overall mix.
Application
Apply mixed coating with a soft rubber squeegee. A minimum of two coats are recommended.
Important
Stir material thoroughly before using. Temperature must be a minimum of 50° F. and rising before application. Do not apply when rain is imminent or forecast. Keep from freezing. Close container when not in use.
Drying Time
PickleMaster surface coating dries in 30 to 60 minutes under optimum drying conditions. Allow each coat of material to dry completely before applying successive coats. Low ambient or low surface temperature and high humidity can increase drying time. Allow coating to cure for 48 hours before opening up for play.
Clean Up
Wash tools in water before material dries.