Sport Surfacing & Repair Contractors | Florida
SportMaster Sport Surfaces is a brand of products, sold through the SealMaster franchise system. There are over 100 stocking locations throughout the United States, and additional licensees and distributors abroad. We have multiple locations in the state of Florida where qualified sport surfacing contractors can get the products they need. Not only do we carry paint and coatings for painting and surfacing sports courts, but we also have tools, equipment, accessories, and additional materials used in sport surfacing and repair. Are you looking for qualified sport surfacing & repair contractors in Florida? We can also provide referrals to experienced SportMaster installers.
Tennis Court Resurfacing & Repair | Florida
One of the biggest sport markets served by SportMaster Sport Surfaces is Tennis. SportMaster has been, and is currently, utilized on multiple professional tennis tournaments.  These tournaments are sanctioned by the ATP (Association of Tennis Professionals) & the WTA (Women's Tennis Association).  We are also the playing surface of multiple US Open Series events, like The Atlanta Open, Roger's Cup (Montreal), and Citi Open in Washington DC.  SportMaster is also the official playing surface of the USPTA (United States Professional Tennis Association) with its headquarters based right here in Florida.  Contact us and we can put you in touch with specialty contractors that perform tennis court resurfacing & repair throughout Florida.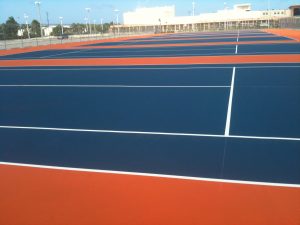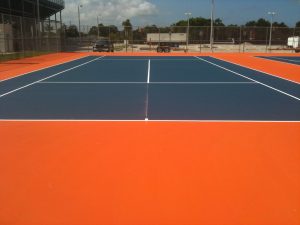 Pickleball Court Surfaces & Paint | Florida
SportMaster is also the official court surface of USA Pickleball (the governing body of pickleball in the United States).  Pickleball is the fastest growing sport in the US, with a large population of players in the state of Florida.  The PicklePlex, in Punta Gorda FL, chose SportMaster pickleball surfaces as the playing surface for all of their 16 pickleball courts (more courts on the way in the near future!)
PickleMaster & PickleMaster RTU (ready to use) are specialized formulas produced by SportMaster, in conjunction with USA Pickleball, to provide ideal playing surfaces for the sport of pickleball.  The coatings are factory-blended with a proprietary aggregate blend for traction without excessive abrasion and wear to pickleballs.  Give us a call or fill out our "locate installer" page for more information on SportMaster pickleball court surfaces & paint in Florida.
Basketball & Multipurpose Courts | Florida
Basketball & multipurpose courts are always plentiful in Florida.  Our installers commonly build, resurface and restore basketball courts with SportMaster color coating systems.  All of our color systems offer 18 standard colors with the ColorPlus Pigment Dispersion and nearly 100 color choices with ColorPlus Fusion blends.  Get custom sport team, school, or business logos on your basketball or multipurpose court.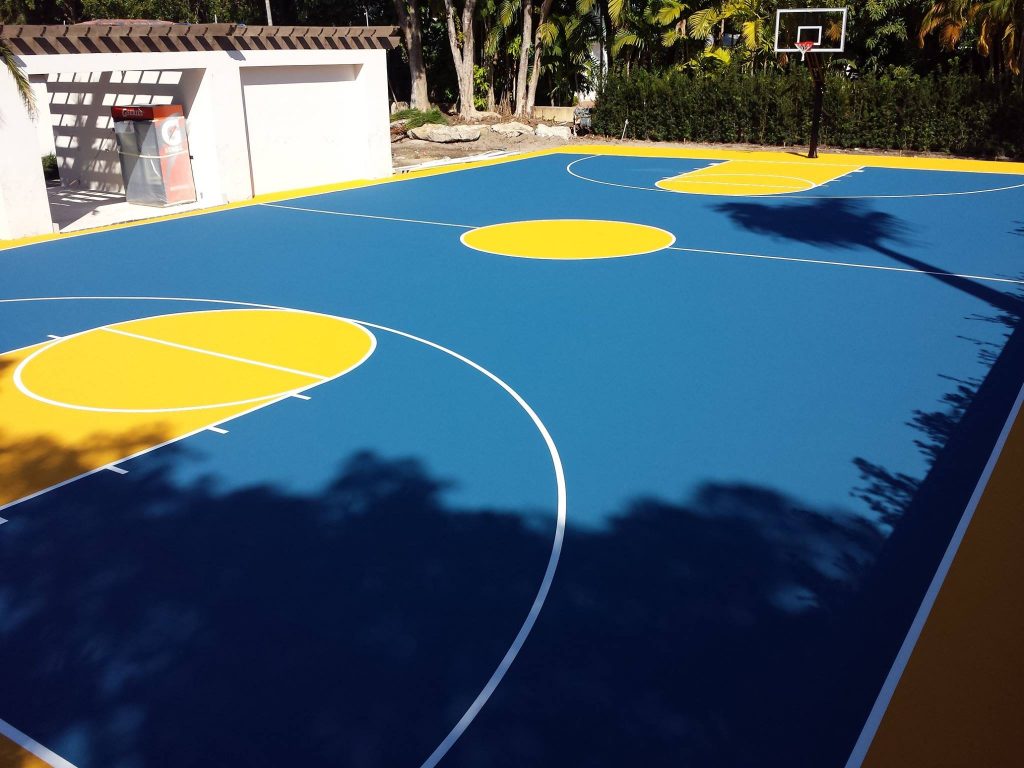 Roller Sport & Roller Hockey Surfaces | Florida
The SkateMaster System was designed and launched in the mid 1990's by SportMaster, and still going strong.  SkateMaster offers a highly-durable acrylic binder to stand up to the extra abuse from skating and roller sports.  Other roller sports like roller derby & skateboarding also benefit from the smooth, non-textured surface of SkateMaster.  The smooth, non-abrasive surface helps to provide a smooth and responsive skating surface, without causing premature wear on the wheels.  Like all of the other SportMaster sport surfacing systems, SkateMaster is also available in nearly 100 colors with ColorPlus and ColorPlus Fusion.
Running Track Surfaces | Florida
We also offer a variety of running track surfaces in Florida.  Here are some of the popular options we have to offer:
All-weather running track surfaces