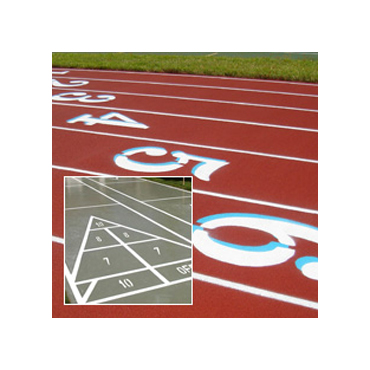 Stencils
Shown below are some of our standard sport stencils for basketball, shuffleboard, hopscotch and more. Custom stencils are also available. Please contact us if you would like to receive a quote on a custom stencil.
Playground Stencils
Basketball Court Kit – Key Only 6-pc – T2505
Basketball Court Kit – 3 Point Arc 5-pc – T2515
Hopscotch Kit 7' 6" x 24" – T2525
Hopscotch Kit Kit 108" x 40" – T2535
U.S. Map Kit 19' x 30' – 2" Wide Segmented Lines – T2555
Shuffle Board Stencils
Shuffle Board Marking Kit – T3010
Made to Official National Standard.
Running Track Stencils
Running Track Marking Kit – T3000
Kit includes:

Roman style numbers 1 thru 8, 36" h x 24" w
Start, Hurdle, Exchange, Acceleration