Equipment/Tools
Sandpup™ II Spray System
A self-contained, portable pumping system for transferring material between drums, pails, or directly to the court surface. The SandPup II can also be used for spraying coatings like CushionMaster and TrackMaster Plus.
Features
Air-driven dual diaphragm pump
75-foot spray hose and wand
Basket Strainer reduces tip clogging
Engine – SandPup II™ – 8 H.P. Honda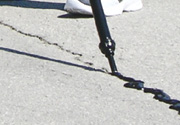 The most convenient method of storing and dispensing color coatings.