Tennis Products
CourtFlex Crack Sealant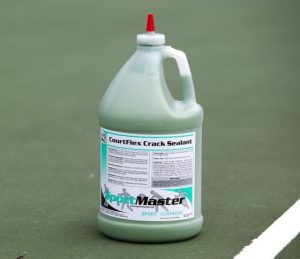 CourtFlex is a 100% pourable tennis court crack filler designed for filling cracks in asphalt or concrete surfaces. Ideal for tennis court repair and filling of cracks on athletic surfaces.  CourtFlex can also be used on pickleball, basketball, and other athletic and recreational courts & running tracks.
Sizes Available
1 Gallon Jug
Coverage
Approximately 150-200 linear feet of 1/2″ wide x 1/2″ deep cracks.
Colors Available
* Colors may very slightly from actual product.

100% acrylic elastomeric emulsion designed for sealing cracks.
Description
An elastomeric cold pour crack sealant designed for use in cracks on sport and recreational pavement surfaces. Use to seal cracks up to 1/2" in width. Maintains excellent flexibility, elasticity and adhesion at temperatures as low as -15 °F on asphalt and concrete surfaces.
Uses
Tennis Courts
Multi Purpose/Basketball
Surface Preparation
Cracks must be cleaned of dust, dirt, debris, and vegetation. Deep cracks may be filled with sand or foam backer rod to within 3/4″ below the surface prior to placement of CourtFlex.
Mixing Procedures
USE AS IS. DO NOT DILUTE
Application
Use product as is. Do not dilute. Pour into crack until it is filled completely. Set time is dependent upon temperature, humidity and sealer thickness. For best results, apply on dry surface when surface temperature is not expected to drop below 50 °F or exceed 120°F. Material must be at or below surface level when application is completed. Before material sets up, scrape excess from surface and use a rubber squeegee (rounded or V-shaped preferably), to assure below surface contour of finished application.
Important
Temperatures must be above 50 ºF both during application and for a period of 24 hours after application.
Drying Time
Drying time can vary depending upon temperature, humidity, and filler thickness.
Clean Up
Wash tools in water before material dries.