SportMaster tennis court surfaces are technically advanced, 100% acrylic sports surfaces. Many people refer to tennis court surfaces as "tennis court paint", but SportMaster systems are designed to provide consistent speed of play, texture, and vibrant color to any indoor or outdoor facility. SportMaster tennis court surfaces are formulated to resist fading and withstand a variety of weather conditions from ice and snow to intense heat and ultra-violet rays.
All SportMaster systems can be applied on properly constructed asphalt, concrete, or existing acrylic tennis court surfaces. If you are interested in getting cost estimates for tennis court construction or resurfacing, contact us for referrals to qualified sports surfacing contractors in your area.
These illustrations show examples of recommended installation steps:
ColorPlus & Standard Tennis Court System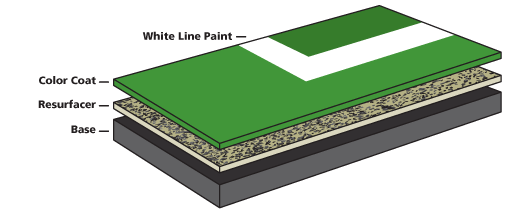 Cushioned Tennis Court System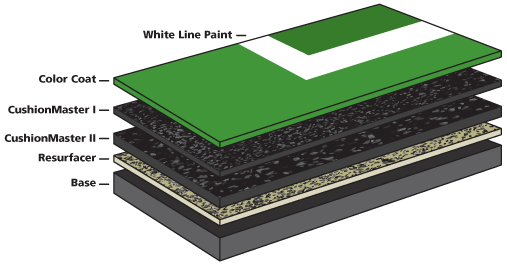 ColorPlus System
The SportMaster© ColorPlus™ System is Revolutionizing Tennis Court Surfaces.
How the System Works: The ColorPlus™ System consists of a 100% acrylic Neutral Concentrate™ (available with or without sand) and the ColorPlus™ Pigment Dispersion. What is truly remarkable about the ColorPlus™ System is the fact that only 2 gallons of ColorPlus™ Pigment are needed to colorize an entire 30 gallon keg of Neutral Concentrate™.
Ease of Mixing: ColorPlus™ is a highly concentrated pigment dispersion that disperses readily into the Neutral Concentrate™ tennis court surface coating. Our proprietary technology enables ColorPlus™ to disperse completely with minimal mixing.
Exceptional Quality: The ultra-fine particle size of the ColorPlus™ Pigment Dispersion produces vibrant, consistent color quality on tennis court surfaces.
Greater Inventory Control: By stocking a single base product, contractors are able to optimize warehouse space and reduce shipping costs. The ColorPlus™ System takes much of the guesswork out of ordering tennis court surfaces. Contractors simply maintain a minimal level of ColorPlus™ Pigment in one gallon pails.
Bulk Options: The ColorPlus system is also available in a unique bulk system that is perfect for minimizing drum usage and disposal. For more information on using the ColorPlus Bulk System for tennis court surfaces, watch the video or contact your SportMaster representative.

Standard Color System
SportMaster Color Concentrate (or Color Concentrate with sand) is also available as an alternative to the ColorPlus system. Color Concentrate has already been pigmented so only the addition of sand and water is required prior to application.
Pro Cushion System
The ProCushion System, depicted in the illustration above, is the ultimate professional and residential cushioned option for tennis court surfaces. This 100% acrylic coating system is designed to provide optimum resilience and spin responsive play. The shock absorbing layers of the ProCushion system provide unparalleled player comfort at an affordable cost. Flexible acrylic binders maximize the feel of the rubber granules for decades after application.
Pro Cushion System Components
The standard ProCushion System consists of 1 to 2 coats of Acrylic Resurfacer, 3 coats of CushionMaster™ II, 2 coats of CushionMaster™ I, and 2 coats of CushionMaster™ Neutral Base with ColorPlus™ Pigment Dispersion. SportMaster Color Concentrate or the SportMaster ColorPlus™ System may be substituted for the CushionMaster™ Neutral Base tennis court surfaces. (This is the standard system installation. Custom levels of cushion can also be achieved by adding or removing layers. Contact a SportMaster representative for details.)
Each layer in these systems serve a specific purpose, and contribute to the quality of the finished court.
Vibrant, consistent finishes allow speed of play specification. (Available in a popular palette of colors)
Multiple acrylic tennis court surfaces form the firm, uniform and durable wearing surface.
CushionMaster is an enhancement that provides dynamic response to body impact, attenuates foot and leg shock, and reduces fatigue.
Acrylic Resurfacer is the base coat that fills voids in the pavement and adds texture for the cushion granules to "grab" onto during application.
SportMaster tennis court surfaces can be installed indoors or outdoors, on asphalt or concrete.
Additional SportMaster products are used for patching, leveling and crack sealing.
SportMaster tennis court surfaces can be used for a variety of sports other than tennis. Other racquet sports like Pickleball, Badminton and variations like Paddle Tennis and Paddleball are commonly played on acrylic surfaces. Contact us for assistance in matching up or customizing the right surface for your application.